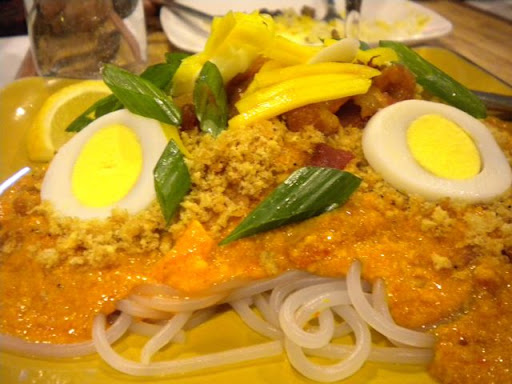 Photograph by Elyaqim Mosheh Adam.
Pansit (便食) palabok.
Ambassador Program at Tito Rad's, 49-12 Queens Boulevard, Sunnyside, 2 March 2010.
Update, 14:00: In an odd coincidence, another openly gay, non-Filipino Jackson Heights resident posted a 'blog article this month consisting of a picture of pansit palabok shot in a different Queens neighborhood: Tony Crespo, "
At Red Ribbons in Woodside having Palabok and Mango cake
,"
NYC Gay Cop
, 8 March.
• A version of this article is reproduced at webcitation.org/5oI1mEIQQ.
• Additional comments on this article may be available on Google Buzz, FriendFeed, Facebook, and Jaiku (and FriendFeed and Google Buzz).